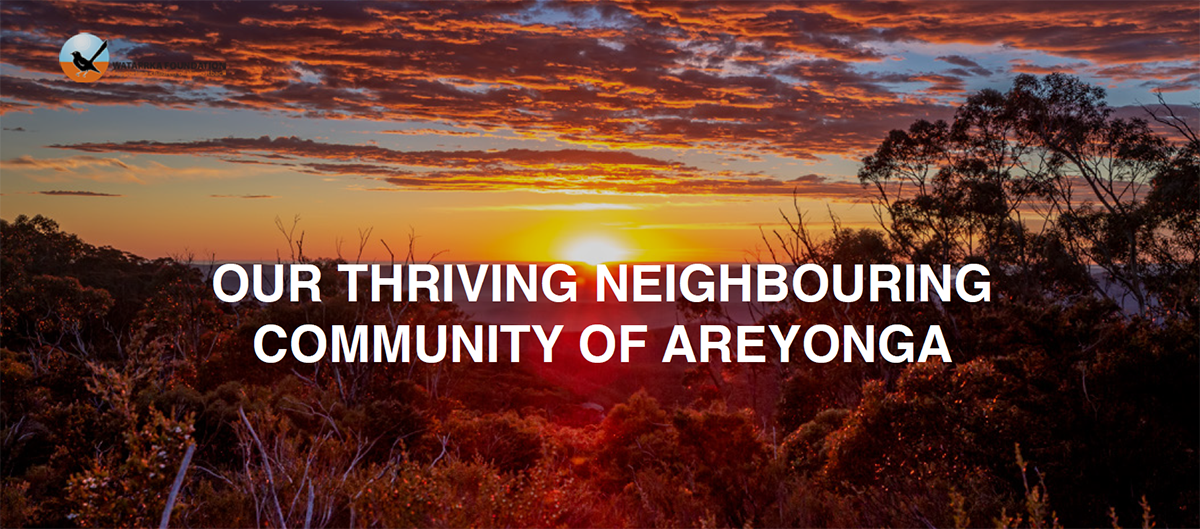 Areyonga (pronounced arr-ee-yon-ga) is a small town located 132 km east of Watarrka National Park. Also referred to as Utju, this town is home to a thriving community of 235 people, with almost 90% of this population identifying as Indigenous. Residents of Areyonga predominantly speak Pitjantjatjara, having originally come from the Petermann Ranges in the 1920s. Areyonga is also home to some Arrernte and Walpiri families.
History of the Areyonga Community
Located in a picturesque valley of a magnificent gorge, this town is famed for its abundant flora and fauna and flourishing arts community. Areyonga was founded during the 1920s after a long running drought forced Pitjantatjara families to leave Kaltukatjara and other places in the Petermann Ranges. The community initially moved to Hermannsburg before settling in the Areyonga gorge. Areyonga has since remained in the Lyarrka Ward of the MacDonnell Regional Council, despite its close proximity to Western Arrernte communities.
During the 1940s, a Lutheran mission was established in the settlement. During this time missionaries from Hermannsburg provided welfare services and opened a ration depot at the site. In the 1950s they opened a school and many people began to reside in the settlement. By the 1990s however, the land was rightfully returned to the native people as part of the Haasts Bluff Aboriginal Land Trust.
History of the Within it's Community
In recent months Areyonga has become well known for high vaccination coverage within its community. As of October 2021, 94 per cent of the town's eligible population had received at least one dose of the COVID-19 vaccination and 47 per cent had received two doses. When compared to the low rate of vaccinations in the Northern Territory outside of Darwin, sitting at around 36 per cent double dose, Areyonga's phenomenal vaccination coverage is something to celebrate. The community's success can be attributed to the incredible work of long-term health care worker Sarah Gallagher. It has been said that she single-handedly persuaded most residents to get vaccinated. Strong male leadership in the community has also been attributed to uptake success.
The Watarrka Foundation are pleased to learn of this community health care achievement and applaud Sarah for her efforts on the ground in Areyonga. To learn more about Areyonga's vaccination uptake, along with uptake in other regions, please refer to the below resources:
- https://www.abc.net.au/news/2021-10-20/areyonga-indigenous-community-reaches-94-pc-cov id-vaccination/100550810
- https://www.health.gov.au/resources/collections/covid-19-vaccination-geographic-vaccination -rates-sa4-indigenous-population
To support the Foundation and our projects within the Northern Territory, make a donation at www.givenow.com.au/watarrkafoundation